How to use your smartphone to run your business
April 13,2017 0 comments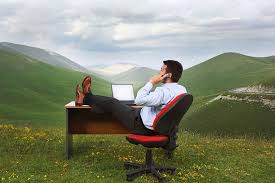 It is indeed an awful sight to see them walk blindly near a highway. Or rather, I bet you have hit some of them accidentally (or intentionally) on the walking paths. But all the same, they usually voice "I'm sorry..." had you hit the thief of their attention, worse might have happened (a fallout maybe). The smartphone is the thief about whom I speak (it steals your attention often). A very powerful technology bundled into one small closet. Very portable, energy efficient, nice and easy to handle but above all, it has numerous capabilities (which increase daily as more features unravel, plus developers burning their midnight oils). Were the capabilities to fall into the right hands, like those of an entrepreneur like you, a significant change in how you handle your business would be witnessed. As I unravel these capabilities, mind the words of Niklaus Zennström, co-Founder, Skype & Kazaa, "Look for when the environment is changing- the big shift now is the mobile internet. It's really happening big-time. The way you interact with services on a smartphone compared to the Web is quite different, so there's huge opportunity."
Collaboration
Being a project manager is one of the daunting tasks every business personnel has to deal with. A successful business personnel (even them owning small management enterprises) has to take each business task as a project. Only then will he/she accomplish their well-defined goal. A project, however, involves many entities; meaning the key people in your team may not even be in the same room, let alone dwelling in the same country. Some smartphone apps will neutralize these conditions for you.
Some wonderful smartphone apps indexes collaboration to another level. Asana, as an example, organizes projects, tasks, and incoming messages into one user-friendly dashboard. You can add people to your tasks, instruct daily work, and add detail to different projects all from one station. As if that's not all about 'project management', responses and work details come back to you in real time. Happily enough, it is free and even has a desktop version.
In support of collaboration is communication, without which an idea becomes obsolete. Worry not, even if new to the smartphone forest; I will help you pick a tree or two to use in business communication. For one-to-one or grouped phone calls, skype and google hangouts can be of a good choice. You can use WhatsApp or Telegram for broadcasting text messages to many people or group chats.
Time
This ought to have come first. Discern the following from Leo Tolstoy (it is, however, subject to my intentional distortions), "The right time to do anything is now; the right person to do something with is the guy next to you; the right thing to do is to make the guy happy". Yet for business, these can be shortened to, "plan your work then work your plan". There exist amazing smartphone apps that do the 'plan your work' for you.
2Do app manages your schedule for you. It can be used as either a simple or comprehensive task manager. With it, you can categorize your tasks by lists, such as personal lists, business lists, and so on. They can even be tagged, grouped together, and prioritized. These tasks can be scheduled to your calendar to keep you ahead of the competition. Another great one that employs the 'Eisenhower matrix' (a proven time management principle in which your tasks are grouped by importance and urgency. The technique helps you focus on your most important tasks) for managing your tasks and improving your focus is called Eisenhower.
Email marketing
Of late customer relations managements are moving away from communicating to their customers using emails. The fact will still remain, most consumers must have at least one email address. Therefore collecting such emails would mean possessing direct communication with the customer; a great thing for every entrepreneur.
You can collect emails directly on your phone. For example, SignUpAnywhere has an app that allows you to collect people's email addresses even when you're offline. You can then download a .csv file with all the addresses later and upload it to your email management platform. You might also want to consider the Friendthem smartphone app which scans business apps and often linking your social media to theirs. Be sure to collect mostly relevant email addresses.
Customer relationship management (CRM)
If your business is that of a long term basis then you might echo me in saying that, having sold your product to a hundred new customers today bears a little into your business growth. What does matter is, did you or did you not grab the shirt when the customer left? Do you possess anything that is the customer's? Plainly, how can you get to the same customers again when you need them to see your new product (or the improvement of the old)? What is your relation with the customer? Consider the following apps that can do the donkey work for you.
In order to keep the customer's contacts, consider the ABBYY Business Card Reader app. The app converts the business app to manageable text data which is then uploaded to your contacts and synchronized across your services. You simply have to, line up the business card within the borders of the app, and simply take a picture of the card. The app does the rest.
Managing your sales is also one of the key things in the business, for how then can you know whether there is profit or loss? You can manage your real-time sales with your smartphone. This will enable you to manage inventory in real time by seeing what is selling and what is not. You can also incorporate your new customer's data into your company database. Apps like Square can be used to accept instant payments for products or services. And you can even use Square across entire sales teams.
Finally, in order to make a long lasting impact on a customer, you might want to consider offering after sales services and customer support. The two, however, will only be successful if you do some thorough follow-ups on the customer. One app to consider in the customer service apps realm is Parature. It allows customers to interact with a knowledge base of your company's information. Zendesk is another extremely popular customer service platform that has a great mobile app and all the features you need for different size businesses.
Possessing a technology is one thing. But mastering how to control the technology instead of the technology controlling you is the greatest skill you can possess. I will leave you with this; possessing knowledge takes not a man into the field of successes but rather it is effective intelligence that does that. Can you use the knowledge you have to improve your (or someone's) life? Can you use your smartphone in another way (to run your business effectively) than the purpose for which you most currently use? (Can you hack it?).