Kenya bans polythene bags from september
March 27,2017 10 comments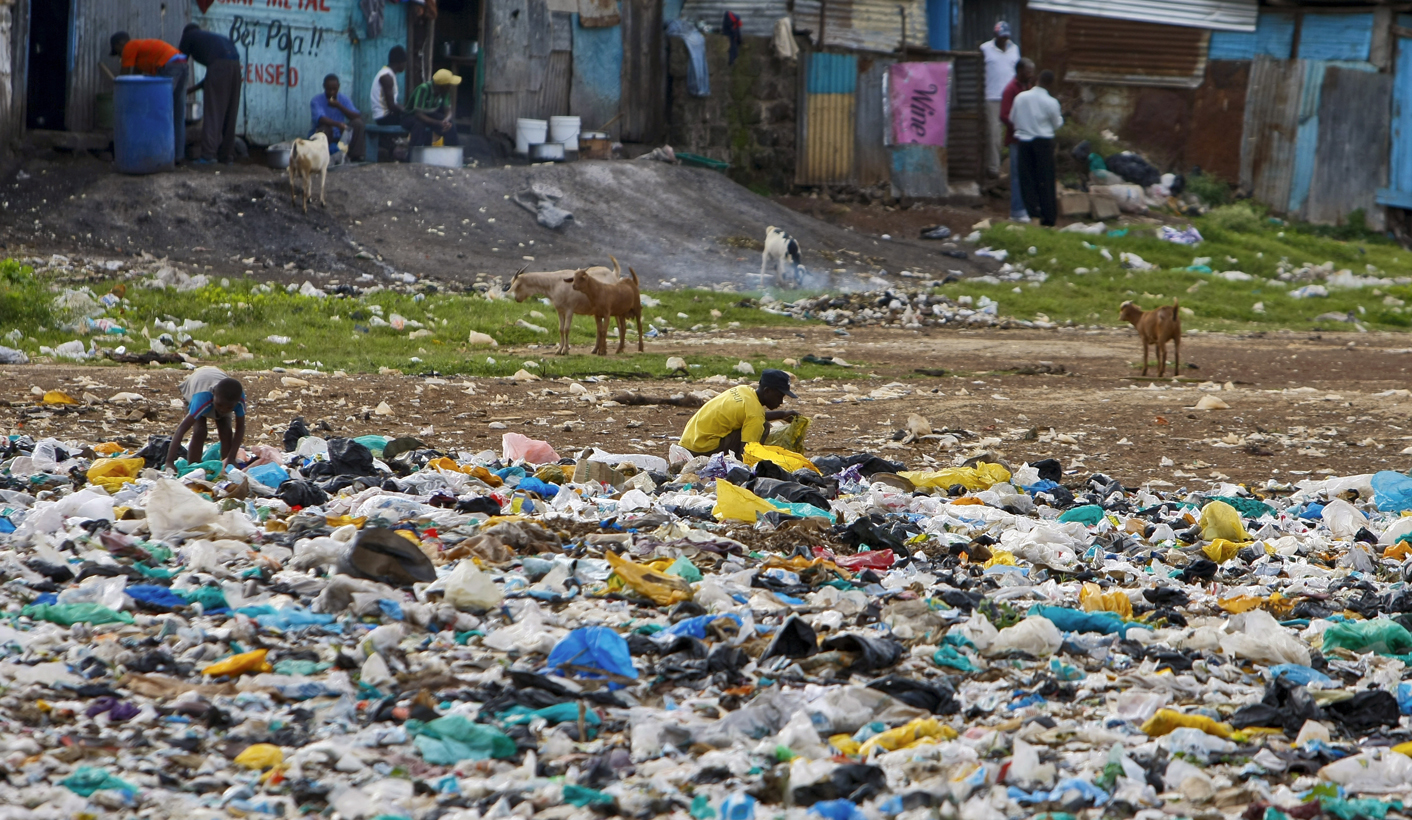 "The ministry has banned the use, manufacture, and importation of all plastic bags used for commercial and household packaging." The mentioned statement from the Environmental Cabinet Secretary Judi Wakhungu, was to most Kenyans, especially the environmentally conscious, a relief. Another section of Kenyan's too had their own reactions; some welcoming the news with jeers as they satisfactorily added, "A 2007 attempt at cleaning up the country by banning the manufacture and import of plastic bags widely failed." Most of those earning their livelihood from the mentioned products might be echoing the same, but the following cons of plastic bags must be considered by all.
In a number of African countries, plastic bag pollution is causing severe environmental and health damage that manifests itself in a number of ways. Consider the image below.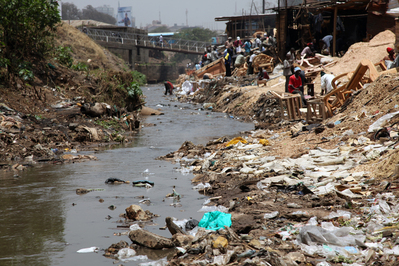 Plastic contains endocrine disruptors linked to hormone problems and they are harmful. The learned have known of Bisphenol-A chemical from plastic and have been trying to avoid the same.
Plastic chemicals have been linked to obesity and infertility. Many may claim, "But we do not eat plastics." Yet it has been reported from around Limuru that sheep feed from rubbish heaps of plastic bags, a confirmation that it is part of your food chain. Underline also that, some buy high-temperature food and wrap them in the plastics bags. High temperature speeds their degradation hence they release harmful chemicals in your sugar-sweet food.
The chemicals in plastic have thoroughly polluted our water bodies especially oceans. In Kenya, considering Lake Baringo alone, a huge heap plastic bags are afloat. Let alone the embarrassment (to tour guides) and utter disappointment (to tourists) around Nakuru having mistaken black plastic bags (hanging on trees) for birds. The Nairobi River is another victim of this product misuse; the plastic bags here being a major breeding ground for mosquitos. Most storm drains, sewage systems, and rivers also have been blocked by these bags which often lead to frequent flooding and faster spreads of diseases such as cholera. This damage may already be irreversible and is still increasing. For them dwelling around Tana River and the Indian Ocean, Plastic bags has been found under 20 feet of ice in the Antarctic where there is no human habitation or waste. Consider the image below of Nairobi River.
Where the bags are burned either for energy or mass reduction purposes, heavy metals and toxic organic compounds (e.g. polychlorinated dibenzo-p-dioxins and furans (PCDD/Fs; commonly referred to as "dioxins") and polyaromatic hydrocarbons (PAHs) can be produced. In agricultural areas, the bags can interfere with water and air movement through the soils, and thus decrease the productivity of much-needed farmlands.
To add insult to injury; many Africans have creatively discovered another use of this bags. The bags are also used for disposing of human waste in city streets, in gutters, and on neighboring roofs. This leads to an "out-of-sight, out-of-mind" philosophy that superficially and incorrectly portrays the absence of the existing health risks compared to otherwise "open" human waste disposal. Since most landfills are not routinely covered with soil in Kenya, the bags are easily transported around the countryside where wildlife and livestock consume the materials. Numerous cases of animal injury and death as a result of this practice have been reported.
Not only do we discard and use over 1trillion plastic bags each year worldwide, but also these bags take a 1000 years to fully degrade, releasing chemicals the entire time, for every plastic you use and discard in the wrong place you are diminishing the lives of about 14 to 15 Kenyan generations (from now) to come.
Last year, a bill sponsored by Umoja MCA Njoroge Maina aimed at encouraging the re-use of paper bags or the use of alternatives to reduce the plastic waste generation. The bill tabled in Nairobi proposed fines for shoppers found carrying polythene bags in the city. This meant that supermarkets outlets would not be allowed to use polythene bags to package goods for customers. According to the bill, a retailer who failed to charge the customers for the bags could be jailed for up to 12 months or fined up to sh. 3milion or both. The ban is built upon this bill with slight adjustments on a few sections. We should consider this as a fresh awakening of the long lost talent. Consider the sections below.
While very young I would accompany my mother to the market to shop for items. The market then was very organized and clean. A human had not to worry about crossing paths with animals from other kingdoms like rats. Nor would you see an aimlessly spreader-sheep looking for food from a trash heap of plastic bags. My mom too never worried herself about a container for carrying numerous heavy items of shop, with her she carried her 'kiondo' bag, and she never had to replace the bag every now and then. Not to forget, there were those palm tree leaves woven baskets (made using strong palm fibres). But where did they go? My old men of those days had hats made of the same materials. take a look at the photos below.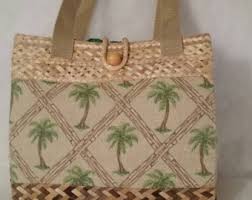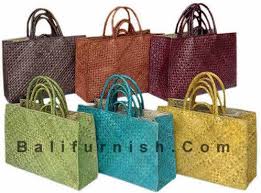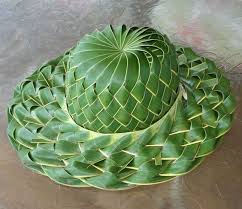 Plastics being cheaper, lighter and strong replaced these products completely. Once again the machine displaced the human from their job. I would advocate for the return of this eco-friendly bags. Other than being eco-friendly, they are super strong, beautifully and elegantly made in the African way, you buy them once and use them for as long as you are caring. They are multipurpose too, with some used for traveling while others customized for schooling. The supermarkets can introduce a carry-your-own-bag system and if this is so, much benefits are to follow them that use the traditional bags. Below, I give a few examples of the bags of which I speak.
Crochet bags-they are easy to make. All you need is some wool or yarn, a crochet needle and a little time. Never worry about the bag having to break, it won't break for a very long time. These bags support an almost ten times as much weight as a polythene bag. As an enticement, some are fitted with zips hence you never have to worry about your items falling out of the bag. You will travel with the bag too, as opposed to the one you are carrying nowadays from the famous supermarket. Since the material is a product of nature, they are eco-friendly, and inexpensive too. Buy it once. It's a product of utter elegance and creativity that soothes the eye.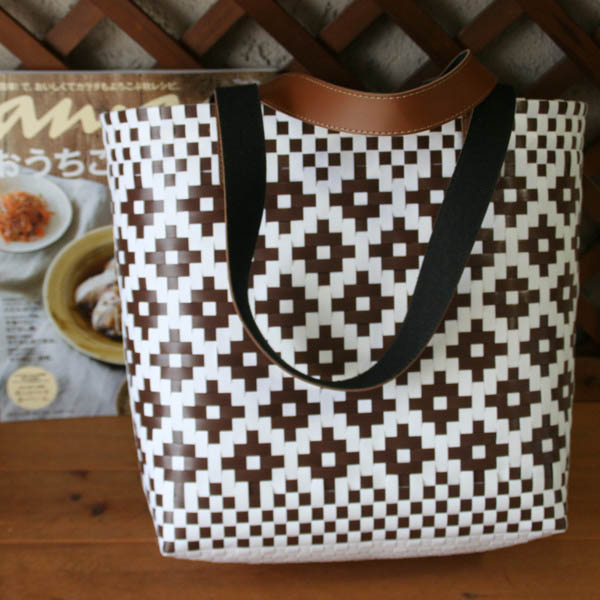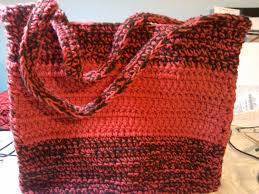 Palm tree fiber-woven bags. These were my favourite considering their very light weight and low price. They come in a flexible range of sizes. They too can support much weight. They are available countrywide, being made by many tribes. I remember being taught how to weave this baskets, I have to say, it was an interesting moment; plus you will be proud of yourself after seeing the product you have made. Some are too on fashion that when you carry them with you, you will have nothing but the often high-priced shame of being an African.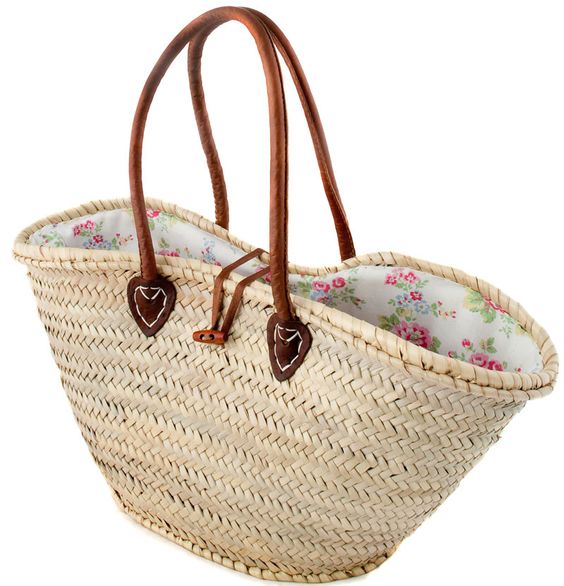 Of course these amazing pictures you shall see and make tangible.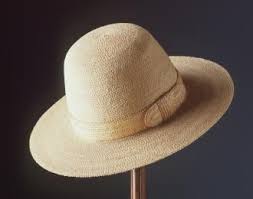 Straw bags. Currently, these products are being shipped to Kenya from countries like the US (from Hawaii) and India; as if we cannot produce our own. Yet Kenya is a hallmark of beauty and praise when it comes to products built by the human. Consider the photos below.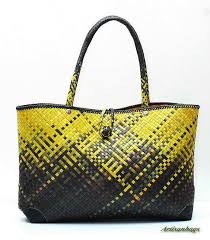 Some Kenyans are known to oppose changes like these but just to remind the type, Kenya is not the first to do this. Other African countries like Eritrea, Zanzibar, and Somaliland have banned plastic bags as have China, Bangladesh, Taiwan, Thailand, Papua, New Guinea, Nepal, Philippines, and several states in India. Consider also the success story of Rwanda on the same issue. The lives of Rwandese have proved that it's possible, in this machine and materials revolution age to live without plastic bags. Minimum thickness rules (i.e., a partial ban) also exist in South Africa (which also applied a tax to the thicker non-banned bags) and Uganda and are being considered in Ethiopia, Ghana, Lesotho, and Tanzania, in an attempt to reduce the use of the most disposable thin bags. Don't think this move will make you inhuman, you were ones a healthy human before them.