Kenya's home to investment education
March 05,2017 1 comments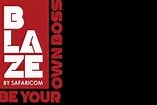 There are very few Kenyans who understand the concept that they can start a company, have the businesses running, and sell some of the equity in exchange for capital and formidable partnership. The root of this being purely ignorance and inadequate exposure to an event featuring such activities. Good news it has to be for the affected, the following two events, mostly reality TV shows, offer educative experiences on the subject matters. I would recommend any aspiring youth investor to check them out.
Safaricom's BLAZE
Safaricom launched a product that they say cost them 25 percent of their marketing budget, the Safaricom Blaze. According to Safaricom, Blaze is a sub-brand of Safaricom created to give youth aged 26 years and below a wide range of products, services, and benefits tailored specifically to meet their everyday needs, including mobile communication needs. It will also give the youth control on how they'll spend their Airtime, give them an opportunity to be mentored by successful entrepreneurs, fund their business ideas.
The Blaze when launched, also offered a chance to appear in Blaze BYOB (Be Your Own Boss) TV Show- a youth entrepreneurship reality show, which is already on air on KTN (from 6th February, 2017). The contestants will be battling out for a chance to win the grand prize of Ksh.5 million- funding that will enable them to chase their dreams and build careers out of them. The items below provides further details about the show.
Time:8.00 pm
Channel: Exclusive to KTN
Duration:8 weeks
Grand Prize: Ksh.5 million (Ksh.3 million in cash and Ksh.2 million in support)
But every contestant will get financial and business support
No. of Contestants:12, 6 gentlemen and 6 ladies.
According to Safaricom, there are over 1 million young people registered on the BLAZE network. 44,000 attended the Blaze Summits held in Eldoret, Thika, Nakuru, Nairobi, Mombasa and Kisumu back in 2016. It is at these summits that the youth were auditioning. There was a total of 778 auditions but only the 12 contestants made it through to this final stage.
"With B.Y.O.B, we're progressing beyond focusing purely on enabling communication. We're investing in youth empowerment; in giving them a platform to express themselves in the most authentic way and supporting them on their unconventional journeys to success," said Sylvia, adding: "BLAZE is not about conforming. It's about encouraging you to ignite your spark, find your passion and chase your dream."
Blaze will also see subscribers have access to cool branded 3G and 4G enabled devices such as the Blaze Flame, which will retail for Kshs.10,000 + a free selfie stick and phone cover, exclusively from Safaricom shops. More elements of the platform will be rolled out over the coming months including a music app that will allow subscribers to stream and download music, and share their playlists with friends.BLAZE subscribers will also have access to innovative new M-PESA-based services that will encourage the youth to take control of their finances, as well as BLAZE Bonga, which is a loyalty programme with rewards that appeal specifically to the youth.
The lion's den
The Kenyan version of Shark Tank called Lion's Den will be airing on NTV every Monday evening between 8 PM and 9 PM.
Lion's Den, just like Shark Tank, will feature aspiring entrepreneurs making business presentations to a panel of Lions (venture capitalists and investors), and if the Lions are convinced that the idea is viable, will decide to invest in the business in exchange for equity in the business. Kenya Commercial Bank is sponsoring the show under its "2jiajiri" programme that has set aside Kshs 50 billion to invest in viable business ideas from entrepreneurial Kenyans in the next five years.
"We are proud to be part of this exciting phase as the youth increasingly take up greater sway in the revolution and pace of the economy in the coming years. They are the holders of the greatest ideas, the energy, and the commitment that is needed to drive the transformation. As a Bank we are committed to ensure they realize their dreams through providing platforms that will create an enabling environment for these opportunities", said Angela Mwirigi, KCB Marketing & Communications Director.
The Lion's Den will inspire many Kenyans to rethink entrepreneurship, businesses execution, and innovation. The ideas that have featured in Shark Tank ranges from technological innovations to fashion to catering to education to entertainment to manufacturing to anything else you can legitimately make money from.