Browse online privately
Updated on October 15,2022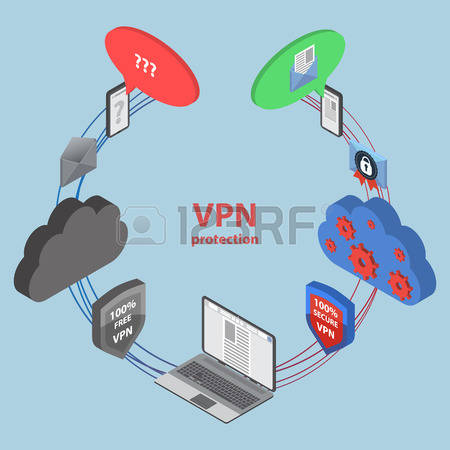 It's enjoyable to surf the Internet, gain access to files, stream, and download shows, videos, music safely with less stress, and with little or no limitations. This is the state a Virtual Private Network (commonly called VPN) can put you in. A VPN ensures that the sensitive data one is accessing is not accessed and/or compromised by preying eyes thereby ensuring that you browse online privately. It achieves this by hiding your computer's Internet Protocol (IP) address (a string of numbers that uniquely identifies your computer allowing it to communicate with another similar device via the Internet). That means a  VPN encrypts and protects your personal information when online.
Securing a VPN connection to your computer assures you a lot of benefits. Consider the following: when torrenting (extremely efficient and fast way of downloading large files), problems can be encountered at times especially when safety is an issue. VPN can come to your rescue. It gives you a way to access the internet through a tunnel service; masks your communication and displays the VPN's IP address when connecting to another computer instead of your own. This prevents Internet Service Providers from monitoring your browsing habit.
VPN  also impacts greatly on the internet access speed of your computer. When streaming videos online, it reroutes your traffic through an encrypted server ensuring safe streaming at top speed. Downloading large files, therefore, is faster than usual.
Choosing the most suitable VPN for your device is, however, not as straightforward as many would think. Much depends on why you want a VPN. If your sole aim is to access geo-blocked content, perhaps  P2P VPNs are fine. But if your number one goal is to protect your privacy then you need to think wisely. The following questions need to be answered first:
To begin with, is the VPN cross-platform? i.e. is it operable on multiple devices with different operating systems like Windows or the Mac? Secondly, is the VPN  usable with a router?. This ensures you protect all your internet-connected devices. And to end with, does the VPN have a limited bandwidth? If it has a limitless bandwidth then it means you can work with numerous service providers at a go.
The quality of the VPN has great significance for your privacy, and often balancing between the cost and quality may prove hard. A poor VPN might even expose your privacy instead of protecting it. It makes you vulnerable to trackings by any other outside (unauthorized) eye. A poor VPN can also grind your internet speed down to a halt. The best VPN, therefore, is that which offers a balance of value (cost and quality).
After some thorough research and testing, I have narrowed down on the best VPNs that I think might suit your device (smartphone, tablet, computer). These VPNs will help you enjoy browsing with maximum safety. They are the best to evade ISPs who will throttle your bandwidth if they discover your browsing habit.
Trust Zone

TrustZone is a perfect choice as the most secure VPN. It gives a fast download speed and also provides for a kill switch (the internet drops when VPN isn't connected to avoid being tracked when online). In addition. it has unlimited bandwidth but a limited number of servers. Trust Zone provides for a 2-day free trial on the purchase. Its pocket-friendly and allows for bitcoin payment.

Spotflux

Spotflux falls into the ad-supported category and if you do a lot of downloading or video streaming, it's a particularly good choice.It'll block dangerous sites, works on multiple platforms, and gives you a "set it and forget about it" peace of mind. If you use Chrome and don't want to download the desktop version, you can find an extension in the Chrome Web Store. It also comes with a "privacy test" which will scan sites for tracking cookies, though you'll need the premium version if you want to block them. If you decide to upgrade to the premium version (including no ads and access to the premium network), it'll set you back $38 per year.

Express VPN

 

Provides thousands of servers which are fast and secured by encryption. Its Domain Name System leak protection keeps you worry less from unwanted notices from ISPs Express VPN guarantees you a 30-day money back from which you can claim your money if you don't like their services. It has over 1000 servers across 78+ countries making it a perfect choice unanimous torrenting. Although it's relatively expensive at sh.800 a month its quality services and maximum uptime with tight security serves the cost right.

CyberGhost

CyberGhost has been at the forefront of the VPN industry for many years. Like Spotflux, it offers various premium models, but the free ad-supported version is adequate for most casual users. Although it does offer more features than Spotflux, the free version is bandwidth-restricted. It's not as useful if you want to do a lot of streaming or you're thinking about cutting the cord. Unlike some other free VPNs, CyberGhost offers a one-click launch of both a browser session and a VPN connection; you don't need to remember to launch two sessions in two different places when you want to be private. Most of its servers are in Europe, but there are plenty of US-based ones available too.

Ivacy

 

Is a Hong Kong-based VPN making it difficult to be traced by USA based ISPs? It guarantees complete anonymity and ensures a fast download speed for torrent files. IVACY makes you enjoy a wide base of servers worldwide. IVACY VPN stands out among the other VPNs as the cheapest of quality VPN at just Ksh 166 a month.IVACY allows for a variety payment mode i.e Bitcoin, PayPal, credit card.

Private Internet access

Is a very popular VPN. PIA implements the VPN kill switch i.e. your internet connection turns down when the VPN connection is out to avoid unauthorized surveillance. It's inscribed with block-ad technology, tracker, and malware block systems to block tracking. IA cost is friendly at sh.4000 a year.

Windscribe

Windscribe offers a Chrome browser version and a Windows desktop version. Obviously, the main feature is the VPN network, but from a privacy standpoint, it offers some great additional tools. They include a firewall to prevent exposure of your IP address in case you lose your connection, an ad and tracker blocker, and a Secure link-generator. The free package includes all of them. The free version has a restricted download limit and only offers servers in the United States, the UK, Canada, Hong Kong, France, Germany, Luxembourg,

TorGuard VPN

 

Torrent Guard VPN [TorGuard] ensures privacy with no logging policy. It provides free anonymous email account enables one to send and receive encrypted email. Numerous servers to choose from ensures high speed and low latency. TorGuard guarantees 7-day money back in case of claim-making you rest assured with their service. It's limitless to an operating system allowing one to operate it on any device.
There is no such thing as full proof protection on the Internet. Hackers and crackers are continually finding loopholes to exploit the existing security architectures and security mitigation techniques. Therefore, using a VPN does not guarantee your privacy online. You need to use it in combination with other methods such as using antivirus in case you are using Windows OS, good passwords and keeping them secret, enabling double authentications, using original software, regularly updating your operating and many more methods that can be discussed in a single article. Feel free to share more techniques and also you preferred VPN in the comments below.