How the advent of drones is positively impacting African lives
Updated on October 15,2022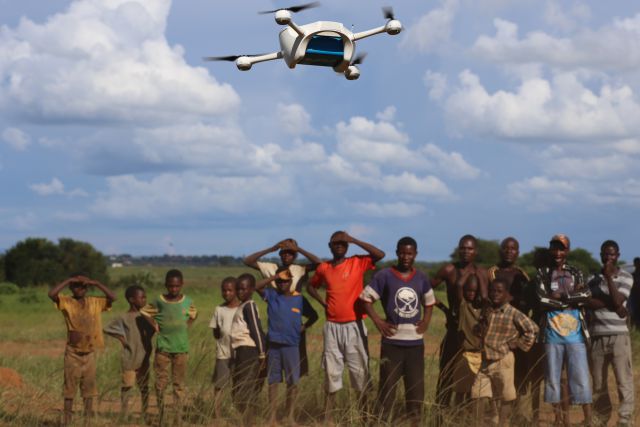 Bombarded with numerous challenges in the health sector, in commerce, poaching, among other areas of concern, and Africa being a fun loving continent (with some African countries thriving in film production and actively engaging in social media), drones might just be the right solution to our quest. Agreeing with me among others, Dr Adepoju Victoria, a house officer at Babcock university Teaching Hospital says " Across Africa, there seems to be an awakening to the importance and potential of drones especially in the health sector. "Also, Africa, offers a potential market which is already being exploited by Nigeria's online shopping platform, Yadala, with e-commerce drone delivery. Not forgetting South Africa with numerous commercial drone start ups already providing services for clients and generating revenues.
In order  to appreciate the beauty and significance of drones in highlighting some of the Africa's problems ,I'll discuss a couple of case studies.
In Rwanda, especially in the rural areas, there is limited infrastructure in terms of transport. Adding salt to injury is the rainy season which renders the already poor roads impassable. This poses a huge challenge during the delivery of medicinal products. Jean Philbert  Nsingimana says " Rwanda is essentially a rural country. Lots of blood products cannot be stocked at every health center. At best it can take four to six hours to get supplies through." He continues to say, " For mothers giving birth, postpartum, hemorrhaging, or post- delivery bleeding  happens quite often. It may not be possible to prevent. Then what is needed is a quick and rapid intervention ."Thank goodness, Zipline heard his plea. The California-based company which has designed a fixed-wing drone to deliver medical essentials to rural health facilities. The ' Zip' ,with a two-meter wing span releases a small parachute-equipped payload that drops into a drop zone without the drone itself having to land.
This could be what the Rwandese needed. Supporting this statement is Keller Rinaudo, Zipline's Chief Executive who says " This technology has the potential to erase barriers  to access for countless critical medicines and save on a scale not previously possible."
Africa has a rich wildlife, therefore, posting as a juicy spot for the greedy  poachers who  kill and sell the animal products. We have heard  from our local news channels of poachers  intercepted while walking away with ivory worth millions, haven't we? The solution is here with us, drones! For instance in South Africa, province of Kwazulu-Natal, silent drones have been deployed to patrol rhino reserves targeted by poachers. This is the kind of surveillance, not even the game wardens could match. This is an Air Shepherd  Program from Lindberg Foundation. The drones have a GPS navigation system as well as daylight and infrared cameras, controlled by a man on the ground and can fly for about two hours before requiring new charge.
With increasing cases of terrorism from terror groups, drones can be weaponized to act as unmanned soldiers on the battleground. This would greatly reduce the number of bodies in the field and consequently reduce the numbers of soldiers who fall while trying to protect us from the enemy. This is becoming a reality with the US building a 100M dollar drone base in Africa.
On a lighter note, our friends in Africa with slightly bigger pockets also enjoy the services of the drones.People are using drones to take HD pictures of themselves while in scenic sights  to post them on their social media profiles. After all, a picture says a thousand words about someone. The African film industry may also employ the use drones to shoot their movie episodes, which will provide more steady and quality videos.
Despite Africa's airspace being less crowded, and less urban areas to deal with, facilitating smooth navigation for drones, drone technology still faces major cons.
For example, some drone models have a limited range and would, therefore, require frequent recharging. When such a drone crashes in the remote areas, its retrieval may not be a walk in the park.
Some African governments are yet to make regulations on drone space. Others are also not comfortable yet with the technology considering it a possible invasion of their sovereignty. This due to the fact that the governments are struggling to catch up and implement  policies that restrict dangers associated with drones while allowing them to fulfill their robust potential.
Drone acceptance by the general public is another challenge. A survey in 61 countries by Humanitarian UAV Network and other groups concluded that majority of workers saw drones as positive but 22 percent also think otherwise.Major concern would be to think they were under attack, thinking the drones are weapons of destruction as used by the military.
The cost of drones is also a major challenge for our little African economies. The drones are very expensive thus unaffordable.
The future of drones in the African continent is bright. With the introduction of courses such as Mechatronics, our own African experts with proper funding will be producing fully functional drones. Also with the numerous benefits offered by drones, gradually they will be accepted and will be part of our daily normal lives (It's only a matter of time!). It's better to have them than not.