Striking insights from Henry Ford
Updated on October 15,2022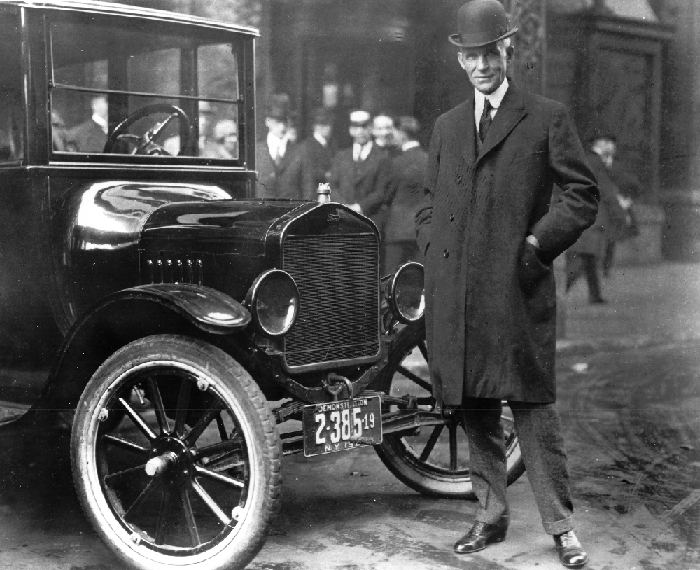 If you leave a mark on whatever road you're a trekking on, you will, for sure, ignite a word of thought on at least one passer-by's box of thoughts. That's the making of a legend, leaving a mark on anything you touch. But, it isn't by size that you win or fail, be the best of whatever you are. One of the most celebrated legends of all time is Henry Ford of Ford Motors. He indeed left a mark in the automobile industry; a mark that would live on from the early 18th century up to now. He is credited by bringing the assembly line into the automobile industry, and also being the one who brought the automobile to the people/multitude. It is my pleasure to share with the reader some of the striking principle and modus operandi of this gentleman.
Learning methodology
What makes the human stand tall in the animal kingdom is his knowledge, intelligence, intuition, and wisdom. Lack of these reduces you to kingdoms Reptilia or Amphibia. What counts much to your possession of these qualities is the method used to acquire them. Ford is one of the select few, who learned from the school of life rather than the casual every-day education system. As an example, he learned full-sized steam engines by becoming acquainted with the engine operators and pestering them for questions. He taught himself to fix watches and used the watches themselves as text books to learn the basics of machine design. He learnt by doing through trial and error. What's more striking is that he moved to a different job place when he thought he could learn more somewhere else. Where more seems to emanate from, you need to get there faster.
Learning from the environment is one of the ideas I highly cherish. It is like you are woven with nature itself. Consider Da Vinci and his genius inventions and ideas; his notebooks have it that he got everything from the environment, that helicopter he drew in the early 18's is the foundation of the modern-day chopper. It counts not what your field of study is, for the Mother Nature has it all. As it was for the man of Vinci, so it was for the motor man. Ford's keen studies of watches, clocks, guns, sewing machines and meat processors eventually led to him developing a moving assembly line by 1913.  Let me give you the idea: how do you think humanity has been moving forward ever since? Consider the very casual thing we use every day, the latrine/toilet. How comes designs have changed from the old pit latrine to the sit-on type latrines? It is because of problems/challenges. You move to the latrine, but squatting is an issue, then there comes the idea to design a new latrine where you don't need to squat. Just like that!? Really!? Well, that's how our average mind behaves. To make it the renaissance type:- give it the invoking question; how can civil engineering (or your field) help change this? After minutes or days of pondering over the question, the idea will strike you.
Getting connected
Only a few individuals know of the power connections. In college, we are haunted by the fact that your success of getting an external attachment in a good well-paying company will be determined by how connected you are. Well, you can spend the rest of your 2, years being haunted or rather start working on this idea-for it is real. And if you knew it well, you may have noticed that it is the building block of human progress. How else can you open up a business branch in a foreign place if you have not connections? You either have them or be busy making them. But it is often a misunderstood idea. Many think that making a connection is about meeting a very prominent fellow in your industry of choice, speaking the famous Chinese "ni hao," and then at the top of your lungs announcing to the individual that you have a degree in this or that field and anytime the guy needs an employee in that field, then you are available. Am sorry, it is a noooo…that isn't what connection is about.
Creating connection is about leaving a hard-to-erase mark. It is how you carry yourself around that guy of interest. How did you present that skill that you cherish in a way that no other could? Creating connection is not handshaking. A street sweeper may sweep the street so well as to be noticed by an individual who loves sweepers. Who knows where he will end up in? Simply be who you are, carry yourself tactically and see yourself leaving the mark. You don't have to speak or make a handshake, just unforgettable do that little thing, and there goes your undying impression.  Henry Ford had the ability to articulate a vision and convince other people to sign on and help him achieve that vision. His ability to identify and attract outstanding talent led to the company's first car- Model A. how do you think those talented individuals got noticed?
Customer centric
Listen to your customers and the data they generate: the most successful, agile and sustainable companies are customer centric at their core. They vehemently care about their clients' experience and are constantly trying to improve it. You will be surprised to find out how bright your customers are when it comes to discovering problems in your business and how to solve them. Ford loved his customers, and that's why he did amazing things for them. Just to prove this, he turned the pleasure car (for the rich few) into a passenger car (for the many). Read about the famous model T from Ford Motors. In fact, how does your company decide on what is important to work on? If it is not a tool like a toothbrush, then you will regret having spent time on it. By this, I mean people have to be using it every day, and that's time well spent.
Failure to innovate
Henry Ford failed to acknowledge that once he started his company down the road of innovation, it would have to keep innovating or else fall behind companies that did innovate. Disrupting yourself isn't just a thought exercise, it is not just a rebranding. You have to keep the following in mind:
To begin with, the only constant is change, and, the rate of change is increasing. Secondly, you either disrupt your own company or someone else will. A stand still is a death equivalent. Thirdly, competition is no longer the multinational overseas. It is the explosion of exponentially empowered entrepreneurs. To end with, you are just as masterful as your mindset.
For sure, I will conclude this article by a little motivational poem below:
If you can't be a pine on top of the hill
Be a scrub in the valley-but be
The best little scrub by the side of the hill
Be a bush if you can't be a tree
If you can't be a highway, just be a trail
If you can't be the sun be a star
It isn't by size that you win or fail-
Be the best of whatever you are