Are You Bringing Your Date To The Mancave
October 31,2017 2 comments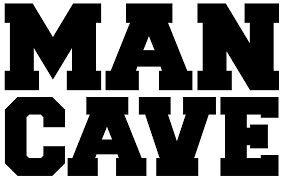 Are you finally bringing your date to the mancave? Well, first and foremost, congratulations. Most men can attest that it is hard enough to convince any diligent lady to go on a date, let alone a home date. Note that the keywords are, diligent lady.
Do you have any idea what a mancave is? Let me enlighten you. Ladies, have you ever been to a house and the first thing that hits you is the glaring fact that a woman does not live there or has not been in that vicinity for a very long period time. Some of the common and obvious characteristics of these houses may be: the constant blaring music, a sink that is always full of dirty utensils, clothes strewed all over the floor, no proper arrangement of house items, the shelves in the house have a thick layer of dust built on them and all seats in the house, if there is any, are facing the television. More often than not, there are posters on the wall of legends, musicians and famous musical groups (G-Unit). It is no surprise to find posters of semi-nude women gracing the walls of these houses. Queen Bee (Beyoncé), Tinashe, Nicki Minaj and bad girl Riri (Rihanna) are the most preferred.
Here are some ways you can make follow to make the house cosy, warmly and welcoming for your date. There are a million and one ways, I will just but mention a few. Remember, you only get one chance at making a good first impression on your date. Try and get it right the first time. You do not want to strike your date as an irresponsible adult, do you?
THOROUGHLY CLEAN THE HOUSE.Men are naturally not the tidiest creatures on earth. However, the trick is to start early. Make an effort to go the extra mile and make the house sparkling clean. Women can easily cite foul smell in their sleep. Get rid of the deep-seated lingering man funk in the house by any means necessary. You can seek help from the Dettol team if you have to. Get rid of stale vegetables in the fridge. Clean the pile of stinking gym clothes and shoes. Empty the trash can with garbage that has overstayed its welcome. Get a third party after cleaning to give a second opinion. Most preferably the blatantly honest best friend who never sugar coats the truth.
DISPLAY YOUR PERSONALITY. The first things a woman should be able to comprehend when she sweeps your house with her eyes are your hobbies and interests. If you're into art, have a few fine pictures hanged on the wall. Framed landscape pictures are always a winner. Your date should be able to tell your interest from DVD and magazine collections. On that note, get rid of the ones that will make you give a thousand explanations but you still end up with a bad reputation. Loose the posters of the skimpily dressed "babes" and slay queens in glamour poses. A lot of people might say it is only a nude body, but the poses and ideals behind the posters portray a different picture. For the sports fans, tone down the never-ending sports memorabilia. Instead, put up some great family photos.
MAKE THE BATHROOM FRESH. Kindly, do not be that guy! Scrub the bathroom clean till you end up with a sparkling clean bowl and a spotless floor. Freshen up the loo. Do not overdo it. A mild scented fragrance will be highly appropriate. It does not have to smell like a perfume laboratory for you to score points. Most importantly ensure that the essentials of the bathroom are available. That is, bathroom bin, hand towel, soap, clean water for washing hands and I don't have to mention toilet papers, do I? In short, put the bathroom on autopilot. Remember to shed the expired and unused stuff in the bathroom.
GET RID OF THE ROOMMATE. She came to see you, only you. For the men with roommates, kindly send them into exile until further notice. It is a good idea given they may end up working to your disadvantage. The fact of the matter is, three is a crowd. On the day of the date, the "bros" who usually make unannounced guest appearances should be given a prior notice that the premises is out of bounds. Remember, she is on a date with you, not you and your "bros." It does not matter how close you are with them. Make the time special by making it a couple's affair.
SET UP A REASON FOR THE DATE. Do not bring a woman home without a picture perfect plan of how you will spend the time. It will help leave out too many expectations. You can cook together. Get a recipe and try cooking a new dish together. After which a candlelit dinner for two will be a perfect idea. Watch a movie together. Do get a movie that can elicit emotions or give the pleasures of comedy. Love comedies are ideal if you feel you cannot make a proper choice. I am yet to see a woman on earth who can resist a Tyler Perry movie.
WOMEN SNOOP. Safely put away things that you may not want her to see yet. I mean the things that may end up totally spoiling the mood of a perfect date and end up ruining it completely. Women can find a needle in a haystack if given time, so to be safe, keep your ex-girlfriends' pictures far from reach. Some things are guaranteed mood killers.
Do your homework. Endeavour to know what her hobbies and passions because chocolate and Netflix is not a quality way to spend time with a woman. If she likes singing you can organise a karaoke. Play board games like chess or card games if it has her interest. The book lovers can curl up with a good book. Play music and dance if she is a good dancer. Be it ballroom dancing, ballet or just club dancing. You do not have to be Chris Brown to enjoy dancing. Just move to the beat. Try breaking a world record of your choice while you are at it. Enjoy your date.