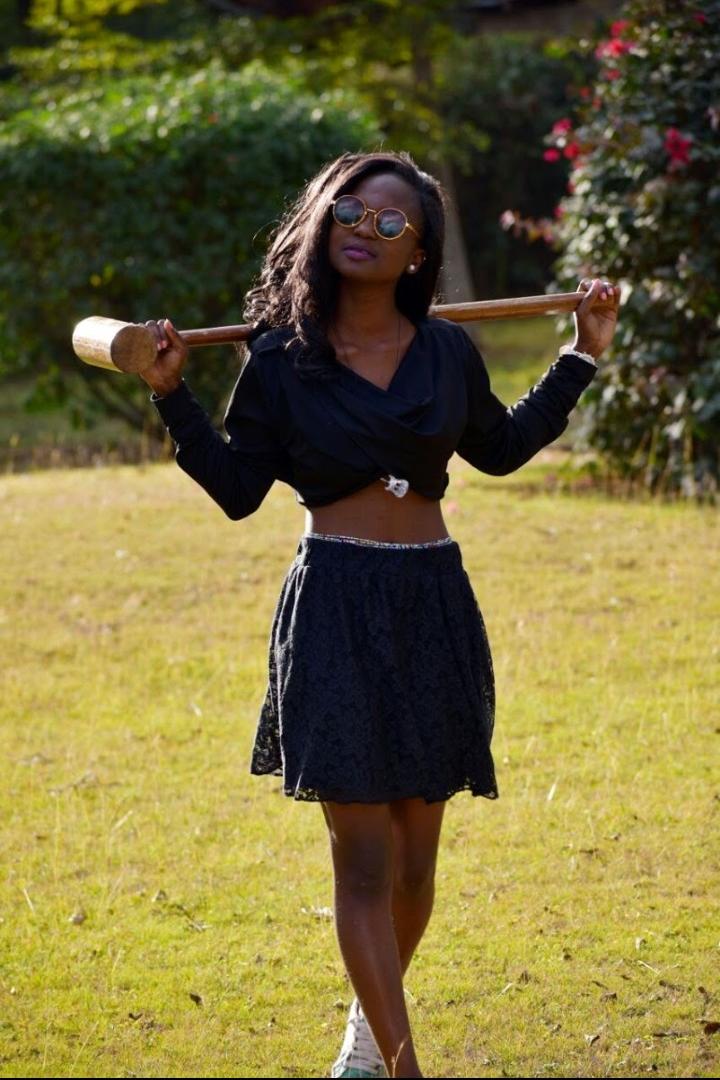 The ravishingly beautiful guest today goes by Quincy Phimena. Her beauty can only be described by great words of the reknown William Shakespeare: "If I could write the beauty of your face, and in fresh numbers number all your graces, the age to come would say, "The poet lies, such heavenly touches ne'er touched earthly faces." Without further ado, let's get to it.
TALWORK: It is such a pleasure that you spared some time to take part in our new segment Q n A. We are really proud of this one on one interview with you, the beautiful Miss Quincy Phimena.
Miss Quincy: You are welcome.
TALWORK: To start us off, what would you say was the turning point in your life?
Miss Quincy: My turning point in life was when I decided to stay alone and leave my parents' home.
It was a great challenge since my family was so much against it. I then promised myself that I would prove them wrong. And here I am, having made it in life and they are so proud of me.
TALWORK: What principles do you live by in life?
Miss Quincy: My principles in life are quite a number.
The first is gratitude. I always thank God for every single thing He has offered me in my life. I started from nothing and now I can testify to his wonders. This makes gratitude my number one principle in life.
Second is integrity. I always secure trust in all my undertakings. I have always upheld my integrity from my school days up to now in my work days. It has helped me garner a good reputation over the years.
Third would be persistence. Losing is never an option. Everything is never as smooth as we expect. I have an art of never giving up even when there are no signs of hope.
TALWORK: Over the years, which personal achievements would you say you are most proud of?
Miss Quincy: Starting to provide for myself. Though it was tough in the beginning, I managed to make it through the tough times and now I can testify that I am living a comfortable lifestyle.
Secondly, I started a cloth line collection. This saw the birth of Philayan Collections. So far it has been progressing quite well and its income is just amazing.
My third would be my side hustles. I always wanted to have more than two jobs. So I went to the nearby gym and made a proposal to the gym manager. Now I train yoga which earns me quite a hefty salary.
TALWORK: Any hobbies?
Miss Quincy: I love having fun, meeting celebrities, attending international functions and also major or minor events. I love swimming, it's part of my gym routine. I love adventure too. I often go hiking, taking nature walks, zip lining and all sorts of fun that nature can provide. I love writing; I have a library full of life quotes composed by me.
TALWORK: What are your passions in life?
Miss Quincy: The first passion I have is being a musician. I always sang along to music and then I developed the habit of writing down lyrics and started dancing. I then promised myself to be on TV, either as a singer or as a vixen; which is a dream come true.
The second would be living a comfortable lifestyle that I can manage and worth my standard. However, I find it hard because my friends, however, confuse me with having 'sponsors yet they don't have the slightest clue how hard I work to lead this life.
I also have a passion for photography. I love cameras, modeling in particular. It's one of the ambitions I had in life. I pursued it at some point in my life but gave it up. But I am still excellent at it and my prowess in modeling is still unmatched.
TALWORK: What is the worst assumption people have made about you?
Miss Quincy: People say I'm young, dumb and rich because I have a sponsor. Which is a big lie because I have always worked hard to put food on my table. I always plan well with my money, I pay all my bills and I have fun with the extras. All that freaks them out.
TALWORK: What's the silliest fear you have?
Miss Quincy: Giving too much and receiving too little. Makes me over think and leaves me stressed.
TALWORK: Thank you so much for your time and we hope we will have you back in the near future.
Miss Quincy: It was fun. I'll be back for sure. You can check my YouTube channel Quincy Phimena.